biography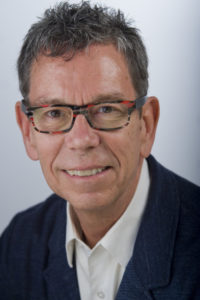 Bill Russell was born in Deadwood and raised in Spearfish in the Black Hills of South Dakota. His paternal grandparents were Wyoming ranchers and his father was known as "Cowboy" to all. But somehow in that Wild West context, Bill was bitten by a theater bug at an early age.
He attended Morningside College in Sioux City, Iowa, for two years, majoring in theater, and spent the summers directing shows at a resort in northern New Jersey. There he met an Oberlin student, Janet Hood, and, inspired by Hair, asked if she'd like to write a rock musical together. They did — entirely by mail — and the result was presented at the University of Kansas where Bill transferred because Bill Becvar, a professor from Morningside, was doing graduate work there and said he'd like to direct an original. That show, a modern version of the Icarus myth titled Sun, Son, won the national BMI Inter-Varsity Show Competition for original musicals.
Continuing to write with Ms. Hood, Bill took a detour from musical theater into pop music. With Linda Langford, Janet formed a duo called Jade & Sarsaparilla and Bill managed them and wrote their lyrics. They toured successfully in New England for several years, released an album on Submaureen Records, and made television appearances both locally and nationally. Bill was the impetus behind the formation of Monteith & Rand as a comedy team (they first performed as an opening act for Jade & Sarsaparilla). He directed and stage-managed their act for 14 years — on and off Broadway and at theaters around the nation.
In 1980, Bill made his off-Broadway writing debut, penning book and lyrics for Fourtune (music by Ronald Melrose). The show ran for 241 performances at the Actors Playhouse and was subsequently performed around the country and in Rio de Janeiro. In 1985, he teamed up with composer Albert Evans and co-author/co-lyricist, Frank Kelly, to create The Texas Chainsaw Musical off-Broadway — a revue of unlikely musicals. In 1987, Family Style, with music by Janet Hood, was presented by the Minnesota Musical Theater Workshop and in 1989 their AIDS piece titled Elegies for Angels, Punks and Raging Queens premiered at the Ohio Theatre in Soho with Bill directing. Subsequently, he directed other productions around the country and three in London including the West End production at the Criterion. Elegies… has been produced all over the U.K. and in Germany, Sweden, Denmark, Israel and Australia, among many other countries. An all-star benefit performance in New York in April, 2001 with a cast of 52 was recorded by Fynsworth Alley.
In 1991, Pageant, another collaboration with Evans and Kelly, opened off-Broadway at the Blue Angel where it ran for over a year. That project was conceived and directed by Robert Longbottom, subsequently toured Japan and continues to be produced around the country. In 2000, Bill directed a fringe production at the King's Head Theatre in London which transferred to the West End at the Vaudeville. That production received two Olivier Award nominations — for Gregg Barnes' costumes and "Best Supporting Performance in a Musical" which Miles Western won for his portrayal of Miss West Coast (competing against three real women!). Bill has also directed productions in Chicago, Los Angeles, Stoneham, MA, Atlanta and the University of Kansas in Lawrence and will direct one at the Black Hills Playhouse summer of 2016. An off-Broadway revival in 2014 received a Drama Desk nomination for "Best Revival of a Musical" and Jay Records released an Original Cast Recording of that production.
Side Show, with music by Henry Krieger, marked Bill's Broadway debut as a writer (though he had contributed material to Monteith & Rand's show at the Booth Theatre in 1979). The musical, inspired by a true story, opened in October of 1997. Bill received a Tony nomination for Best Book and shared one for Best Score with Henry. The show also received a nomination for Best Musical and a rare joint nomination for Alice Ripley and Emily Skinner as Best Actress in a Musical for their portrayal of the conjoined Hilton Sisters. The Original Cast Recording was released by Sony Classics. A Broadway revival in 2014, directed by Oscar-winning screen-writer and director Bill Condon, received great critical acclaim and five Drama Desk nominations, including "Best Musical Revival." The Original Cast Recording of that production was released by Broadway Records, as well as a live album of the cast performing cut songs and new material at 54 Below. Prior to Broadway, the revised version was presented by the La Jolla Playhouse and the Kennedy Center, where it won three Helen Hayes Awards including "Best Musical. Side Show continues to be produced around the country and Bill directed a production at the Park Square Theatre in St. Paul, Minnesota in January of 2002. It has toured Sweden in Swedish and had it's Japanese premiere in April, 2010 in Toyko. That production was revived in the fall of 2011. The show will receive it's London premiere in October, 2016 at the Southwark Playhouse.
Bill and Henry's second collaboration — a wacky version of the ugly duckling idea (Hans Christian Andersen was not consulted) — has had five major productions under the title Everything's Ducky. Bill wrote the lyrics and co-authored the book with Jeffrey Hatcher. The musical comedy premiered with TheatreWorks of Palo Alto in January of 2000 and was subsequently performed at the Repertory Theatre of St. Louis, the Cincinnati Playhouse in the Park, the La Mirada Center for the Performing Arts in Southern California and Northlight Theatre in Chicago. The show received the Will Glickman Award for Best New Play (in the S.F. Bay Area) and Garland Awards (presented by Backstage West) for Best Score, Set and Costumes. A majorly revised version under the title Lucky Duck premiered at the Old Globe in San Diego in July, 2004, directed by John Rando, the Tony-winning director of Urinetown. Bill directed a production at the Boston Conservatory in the spring of 2007 and consulted on one at Black Hills State College in his hometown that fall. In 2010, the Coterie Theatre in Kansas City, Missouri, presented a version adapted for young audiences. That production played the New Victory Theatre on 42nd Street in New York City in 2012.
Mr. Russell also collaborated with Henry Krieger on Kept — their version of Camille set in and around Studio 54. It premiered in 2002 with TheatreWorks of Palo Alto. Scott Schwartz (Bat Boy, tick ,tick… BOOM!, Golda's Balcony) directed and Stephen Chbosky (author of the novel The Perks of Being A Wallflower, executive producer of t.v.'s Jericho) collaborated with Bill on the book. The show was performed at the 2003 Edinburgh Festival by students from Oxford University.
Bill and Henry were commissioned by the Kennedy Center in Washington, D.C. to adapt the story "Boonah — the Tree-Climbing Frog" as part of a Japan Festival in February, 2008. Working with director Amon Miyamoto (Pacific Overtures at Studio 54, Tea at the Sante Fe Opera), the musical is titled Up in the Air.
With Henry, Bill wrote "Santa's Gonna Rock and Roll," the opening number of the Radio City Musical Hall Christmas Spectacular which premiered in 1994 and remained for a dozen years. They were commissioned to write "Take the Flame" for the opening ceremonies of Gay Games IV. The song, performed by Lillias White, was repeated at the closing ceremony at Yankee Stadium and was subsequently selected as the official anthem of the Gay Games.
Other directing credits include: And Somewhere Men Are Laughing by Jeff Mandels at 2007's New York International Fringe Festival, John Augustine's Generation X and XMAS! The Exposé with sketches and lyrics by Frank Kelly and music by Adam Spiegel. Bill also adapted the book of "Call Me Madam" for City Center Encores starring Tyne Daly.
The Last Smoker in America with composer Peter Melnick premiered off-Broadway at the Westside Theater in 2012, with the Original Cast Recording released by Yellow Sound Label.
Bill wrote lyrics for Brave New World, an adaptation of the Aldous Huxley novel, for its world premiere production at NC Stage in Asheville in 2016.
He is also writing the book and lyrics for Unexpected Joy, music by Janet Hood, premieres in July, 2016 at the Wellfleet Harbor Actors Theater on Cape Cod.
Bill married his long-time partner, Bruce Bossard, in July of 2009, two days before their 30th anniversary. Mr. Russell has received two Commendation Awards from the Gilman-Gonzalez/Falla Foundation and was given an honorary degree by Morningside College in May of 2003 and by the Boston Conservatory in May of 2007. He is being inducted into the South Dakota Hall of Fame, September, 2016.