Posts from January, 2018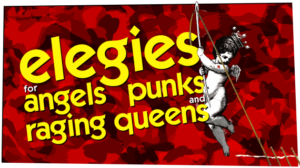 we have a phenomenal cast coming together for concerts of elegies for angels, punks and raging queens at the legendary Feinstein's/54 Below on thursday, january 18th at 7:00 and 9:30 … the cast includes EMILY SKINNER, JOSH YOUNG, EMILY PADGETT, NICK ADAMS and THE SKIVVIES to name a few … here's a link with most of the names included: http://www.broadwayworld.com/article/Alice-Ripley-Emily-Skinner-The-Skivvies-and-More-Headline-ELEGIES-FOR-ANGELS-PUNKS-AND-RAGING-QUEENS-20171228
and here's a link to buy tickets and look at the head-shots of this incredible group of performers:
Elegies for Angels, Punks, and Raging Queens, feat. Alice Ripley, Emily Skinner & more!
and this link gives you a small friends and family discount on tickets: https://www.dropbox.com/s/sqxgc5krowscyl9/ElegiesFF.jpg?dl=0
i hope you can join us — bruce will be at both performances
watch this space for an exciting announcement coming soon!